Description
The adrenals are a vital source of protection from the effects of occasional stress. This formula is designed to provide the body with the essential building factors the adrenal glands need to respond to the demands of today's stressful lifestyle.*
Have you experienced weight gain? Use this product for support with food cravings, occasional irritability resulting from stress, or as part of your diet to help maintain normal blood sugar.*
Glandular Support: Adrenal Complex includes the highest quality "adrenal substance" (i.e., suprarenal substance) which is strictly tested and is safe for concentrated glandular support.*
Nutritional Support: This safe and effective supplement contains specific vitamins and minerals essential for energy and hormone production in the adrenals and includes the herbs eleuthero and licorice root to support healthy adrenal function plus an enzyme blend for effective delivery of these ingredients.*
Did You Know?: The adrenals usually operate at their highest in the morning and then calm down toward evening. For restful sleep, we recommend taking this product in the morning or at noon.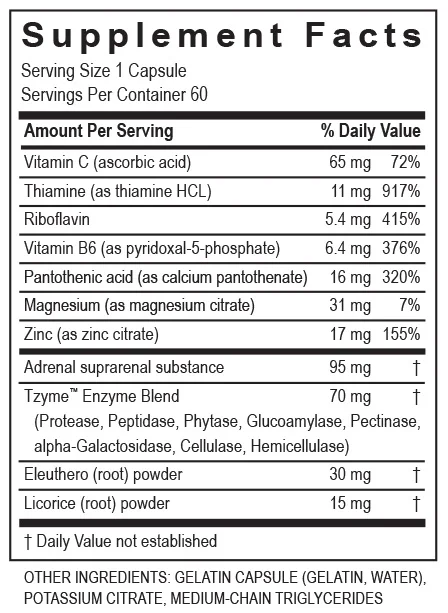 Health Benefits of Adrenal Complex
Transformation's Professional Protocol™ Adrenal Complex is a glandular supplement with vitamins and minerals for adrenal support.*
Take one (1) capsule daily with food or as directed by a health care practitioner.


Dairy Free


Lactose Free


Peanut Free


Soy Free


Sugar Free


Wheat Free