Description
Homeostasis is when the body is in balance. It means feeling good the majority of the time—not just some of the time. It means being healthy, happy, and well. What can we do to support this awesome feeling? New technologies for isolating natural compounds can go a long way toward feeding this spirit.
Cannabidiol (CBD) isolate. Safe and effective, CBD is believed to support the endogenous Endocannabinoid System (ECS), a key regulatory system that modulates several bio-physiological functions in the body.*
Moringa. This superfood plant has been praised for its health benefits for thousands of years.* It has been found to help maintain blood sugar and cholesterol levels that are already within the normal range.* Combined with protease and CBD, it supports a healthy diet and lifestyle.*
Protease Blend. These GI stable and functional, pH balanced proteolytic enzymes are included in the Protease-CBD formula to promote proper blood flow and help reduce the risk of free radicals.*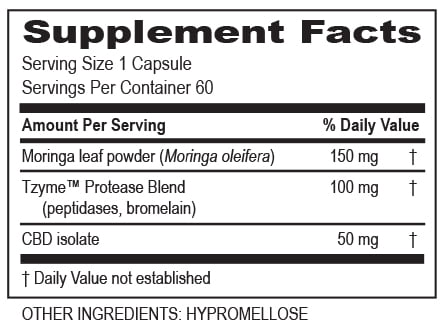 Health Benefits of Protease-CBD
Transformation's Protease-CBD supports systemic health.*
Take one (1) capsule once daily preferably with a meal with at least 8 oz. of water or as directed
by a practitioner.
Contents may be removed from capsule and taken by spoon immediately after mixing with a small amount of tepid water.


Dairy Free


Lactose Free


Peanut Free


Soy Free


Sugar Free


Wheat Free


Vegetarian Latest posts by Nathan Satterlee
(see all)