Description
Transformation's clinical belief is to look first to a balanced diet which provides the nutrition we need for well-being and health. However, many times we find diet alone is not enough. Our modern lifestyle can affect our food choices, digestion, and absorption of nutrients.
Supplementation is required for a healthy skeletal and muscular system, and Transformation™ has searched and found food sources that provide specific nourishment for the joints and connective tissues.*
NEM® brand eggshell membrane: This food source of glucosamine, chondroitin, dermatan, keratan sulfate, hyaluronic acid, and other naturally occurring glycosaminoglycans and key bioactive proteins like collagen has been shown to support joint comfort and flexibility.*
Protease Blend: Transformation's systemic protease enzymes promote overall cardiovascular, muscular, and immune system health along with improved protein digestion for increased bio-availability of amino acids and healthy elimination.*
Lipase: The lipase enzymes in Joint Health help break down and utilize the fats in the eggshell membrane for improved tissue absorption.*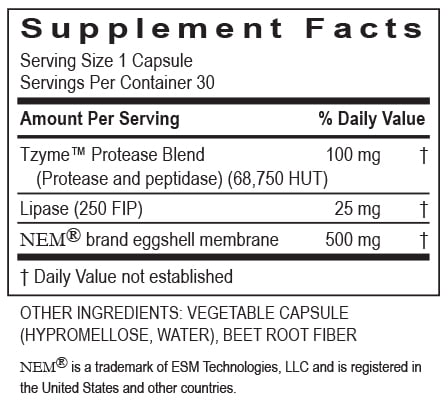 Health Benefits of Joint Health
Transformation's Professional Protocol™ Joint Health is a unique once-daily formula designed to supply nourishment for joint mobility and support the healthy production of cartilage and connective tissues.*
Take one (1) capsule daily or as directed by a health care practitioner.


Dairy Free


Lactose Free


Peanut Free


Soy Free


Sugar Free


Wheat Free


Kosher


Vegetarian