Description
A diet rich in essential fatty acids has been found to help maintain a healthy heart and vascular system and may assist with joint support and maintenance of skin. This is a formulation of Omega-3 fatty acids from fish oil concentrate.*
Omega-3 EFAs: Transformation's essential fatty acids are manufactured from a highly purified fish oil concentrate from anchovy, sardine, and mackerel from Canada, Norway, and Peru with a 1.5:1 ratio of EPA and DHA Omega-3 fatty acids.*
Safe and Effective: All Transformation™ formulas are carefully prepared to assure maximum quality and nutritional effectiveness.* This product contains absolutely no unnecessary ingredients.
Did You Know?: EFAs are best tolerated when taken along with food and a digestive support formula with lipase enzymes for fat digestion such as Digest, LypoZyme, or Lypo.* People taking any medicines that thin the blood (including aspirin) should talk to their doctor before taking fish oil supplements.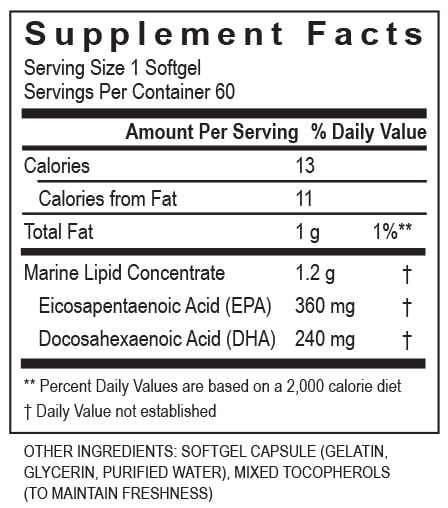 Health Benefits of Essential Fatty Acids
Transformation's Professional Protocol™ Essential Fatty Acids is an EPA/DHA Dietary Supplement with 1,200 mg fish oil concentrate for supporting a healthy cardiovascular system and a healthy neurological system along with vision health and skin health.*
Take one (1) softgel with meals or as directed by a health care practitioner. Take with adequate liquid.


Dairy Free


Lactose Free


Peanut Free


Sugar Free


Wheat Free