Description
Each endocrine gland has one or more specific functions, but all are dependent upon other glands for the maintenance of a normal hormonal balance within the body. This one of a kind formula is uniquely designed to supplementally support the entire endocrine system for encouraging regular menses and supporting low energy, lethargy, and fatigue.*
Glandular Support: MasterZyme includes adrenal, thyroid, pituitary, and gonadal tissues specific to the endocrine and reproductive systems. The comprehensive glandulars in this product are highly tested for purity and safety to naturally feed and fortify the thyroid, suprarenal cortex, anterior pituitary, ovaries, and prostate glands.*
Herbal Ingredients: Black Cohosh and Bladderwrack Algae are known for their ability to support thyroid function. Rose Hips are a natural source of antioxidants and vitamin C.
Enzyme Blend: This formula includes amylase, protease, cellulase, and lipase enzymes for improved absorption and delivery of the various ingredients.*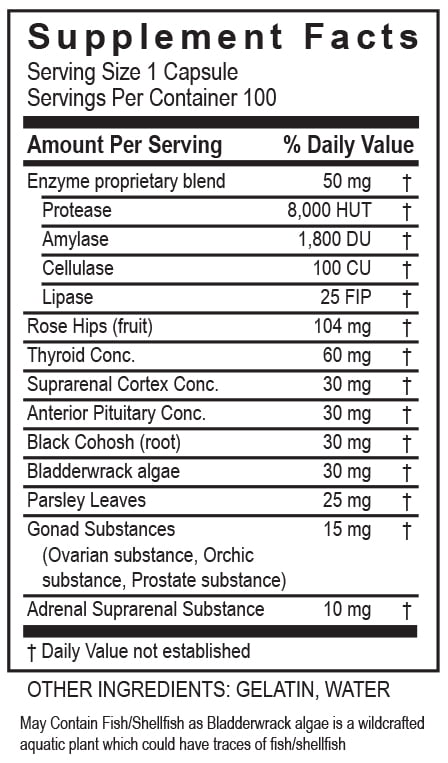 Health Benefits of MasterZyme
Transformation's MasterZyme provides nutritional support for the adrenal, pituitary, and thyroid glands as well as the reproductive system.* May be taken with Thyroid Complex or Adrenal Complex for additional endocrine support.*
Take one (1) capsules two times a day or as directed by a health care practitioner.


Dairy Free


Lactose Free


Peanut Free


Soy Free


Sugar Free


Wheat Free